Are you looking for some smart microwave storage cabinet ideas for your kitchen remodeling project? Installing microwave is one of the most confusing tasks for many homeowners. Gone are the days when homeowners would simply plunk a microwave near the power outlet on their kitchen countertop. But, that means the waste of precious countertop space. Today, everybody wants to follow smarter and more space-efficient methods.
Here are some microwave storage cabinet ideas to save valuable real estate on your countertop while keeping the convenience intact.
Microwave storage cabinet Idea #1: Build Around Cabinetry
One of the most common ways to integrate a microwave is to create a shelf or opening within your wall cabinetry.
Since microwaves are fairly heavy appliances, it's always a good idea to allow some landing space below the wall microwave cabinet from the safety standpoint.
While this is a relatively easy and inexpensive option, the microwave needs to fit flush inside the shelf for a streamlined look. However, it's not always the case. Sometimes, it leaves gaps between the microwave and its surrounding panels, affecting the appearance of your cabinetry.
Microwave storage cabinet Idea #2: Add a Cabinet Trim Panel Kit
Investing in an RTA microwave wall cabinet is a great start. However, as explained previously, it still leaves gaps around the microwave, making your setup look incomplete. The good news is you can spend a little extra on a good trim panel kit for your wall cabinet for a more integrated and flush look.
Check out our cabinet trim panels.
Microwave storage cabinet Idea #3: Install as a Drawer
While wall cabinets are often the common location for a microwave, you can still explore other options around your kitchen. For example, if you have a fairly large kitchen island, they can easily accommodate your microwave as a drawer. Having a readily available drawer underneath the microwave means you have easy access to the food going in and coming out of the microwave. This is a great solution for those seeking a discreet look and high-end appearance for their microwave cabinet.
Another advantage of integrating a microwave into your kitchen island is that you have a ready-made landing space from safety perspective. Moreover, your wall cabinetry looks less crowded which enhances the overall kitchen decor.
The only downside of this solution is that it can be an expensive option for many households. Plus, unlike wall cabinets, it doesn't have many installation options either.
Recommended Reading: Kitchen Island For Small Kitchen: How Much Room Do You Need?
Microwave storage cabinet Idea #4:Hide Behind a Door
If you want to integrate your microwave with your wall cabinetry while still keeping it hidden behind a door for a discreet look in your kitchen, installing a vertical Tambour door is a good idea. When the microwave is not in use, it can easily hide behind the door, offering a minimalist look to your kitchen cabinetry. Likewise, you can simply lift up the door when you want to have access to the microwave.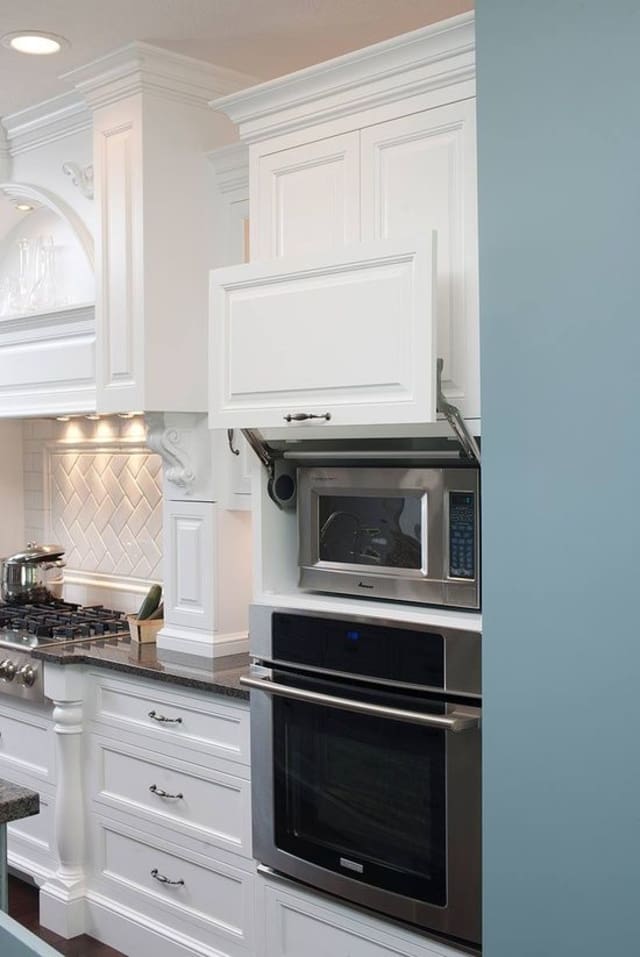 This method gives you ample landing space while keeping the microwave invisible on the countertop. However, this means you have to spend additionally on a Tambour door, something not every homeowner can afford.
Microwave storage cabinet Idea #1:Install Over the Range
One of the best ways to save space on the kitchen countertop is to install an over-the-range microwave. When integrated with the wall cabinets just above the cooking range, over-the-range microwave offers a streamlined look. The only downside to this method is the cost — over-the-range microwaves are more expensive than countertop microwaves. Plus, you need to see if there are any safety guidelines that you need to follow for such an installation.